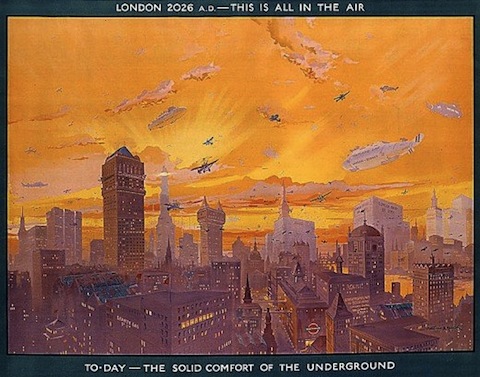 Airmindedness is a word which gets bandied around a lot these days -- okay, not actually a lot, but it's not just me either. But I think it's too broad a concept; at the very least, it needs to be divided into positive airmindedness and negative airmindedness. I mostly write about negative airmindedness. This more or less is the attitude 'Aviation is vitally important to the nation because it is incredibly dangerous'; the previous post is a good example of this. In Britain, I would argue, this was the predominant form of airmindedness in Britain between the wars, due to the perceived danger of a knock-out blow from the air. But mixed in with that there was also positive airmindedness: 'Aviation is vitally important to the nation because it is incredibly beneficial'. (Before 1914 this was stronger, though the phantom airship panics would suggest that even then negative airmindedness held sway.) Above is an example, a 1926 London Underground poster by Montague B. Black.
LONDON 2026 A.D. -- THIS IS ALL UP IN THE AIR
TO-DAY -- THE SOLID COMFORT OF THE UNDERGROUND
It presents a vision of London a hundred years' hence, the far-off year of 2026, drawing on the futurism of aviation to sell the (sub)mundane transport of today. (Airmindedness was very often about the potential of aviation than its reality, the future rather than the present.)


The sky is full of exciting promises: autogyro airtaxis! Airships to Australia! A London Bridge Air Depot! These are all good things (except if you value London's architectural heritage, perhaps).
But as I say, this kind of positive airmindedness is not typical of Britain. I think it is safe to say that it was much more typical of the United States, for example, a reflection of that nation's more optimistic attitude towards technology in this period. That's why when talking about airmindedness it's critical to pay attention to the national context: as brilliant as Joseph Corn's The Winged Gospel is, for example, it would be a mistake to think its portrait of positive American airmindedness applied to Britain where negative airmindedness held sway. 1 Different countries had different forms of airmindedness at different times.
I would add one caution: the distinction between positive and negative airmindedness is not quite identical to that between civil and military aviation. For example, military aviation can be seen as positive if you believe that it will deter war or end them quickly and with a minimum of bloodshed (AKA 'the bomber dream'); and civil aviation can be seen as negative if you believe that they can be quickly converted into bombers and used in a knock-out blow (AKA 'the commercial bomber'). It's all in the context.
Additional image source: The Retronaut.
Joseph J. Corn, The Winged Gospel: America's Romance with Aviation, 1900-1950 (Oxford: Oxford University Press, 1983). A book on "Britain's Romance with Avation, 1900-1950" would be a very partial account indeed, though one on 1950-2000 would be fairer.↩
This work is licensed under a Creative Commons Attribution-NonCommercial-NoDerivatives 4.0 International License. Permissions beyond the scope of this license may be available at https://airminded.org/copyright/.