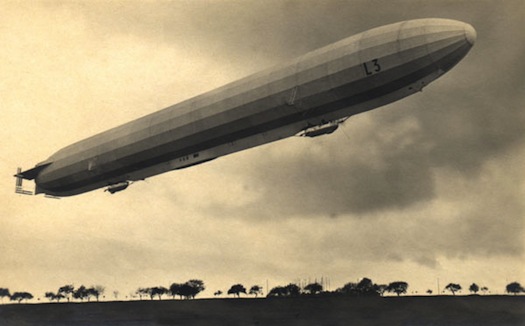 For my eighth contribution to The Road to War on ABC New England, I spoke about the first Zeppelin raid on Britain, on the night of 19 January 1915; certainly more consequential than the first air raid on Britain as it actually killed people in Great Yarmouth and King's Lynn in Norfolk. I talked about the Zeppelins themselves (including L3, above), why everyone assumed they would be used to bomb Britain, why they were not used at first, and why they finally were used nearly six months into the war. I also talked a little about the response to the raids, including the rumours which sprang up afterwards about German spies driving around in motor cars during the raid guiding the Zeppelins to their targets.
For more from me on this topic you could also check out this article by Shane Croucher in the International Business Times.
Image source: Love Great Yarmouth.
This work is licensed under a Creative Commons Attribution-NonCommercial-NoDerivatives 4.0 International License. Permissions beyond the scope of this license may be available at https://airminded.org/copyright/.